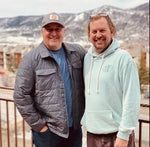 Greg Chanitz and Randy Kriech founded Photozyme in 2016, but the two have been colleagues and business partners for much longer than that.  With over 50 years combined experience in the professional skincare market, Greg and Randy met while working for Elan Pharmaceuticals in the 1990's.  From there they each went their separate ways until they launched a company with a brand called Celfix.
Randy on the left holding the guitar, Greg on the right
A little bit about Greg Chanitz, Sales Entrepeneur.
Prior to getting into the pharmaceutical industry, Greg cut his teeth in business as an insurance investigator.  His job was to interview people to make sure there were no hidden reasons as to why they were applying for multi-million dollar insurance policies.  It was at this job that one of his colleagues introduced him to a friend in the pharmaceutical industry and Greg became a sales rep for Harold Pharmacal, the original skincare company.
And a bit about Randy Kriech, Marketing Entrepeneur.
Randy began his career selling wine in San Diego.  As much as he loved to taste the grape juice, he yearned for a better lifestyle with better hours.  His dad, pre internet, cut out some newspaper ads for pharmaceutical jobs.  Low and behold, Randy secured an interview and became a sales rep for Dermik Labs, one of the original dermatology companies.
Fast forward a few years to the late 1990's where Greg and Randy met at Elan Pharmaceuticals.  After a handful of years at Harold Pharma, Allergan and Bristol Meyers, Greg became the manager of the east coast for Elan.  And after stints at Dermik and Bertek Pharma, Randy became the manager of the west coast for Elan.  The two hit it off immediately not only as friends but also as competitors as the two fought for supremacy within the sales organization.  Ultimately Randy ended up in the corporate office handling the marketing end of things, while Greg continued to dominate as the top sales manager year after year.
Greg on the left and Randy on the right in 2022
Eventually all good things come to an end and that was the case for Elan Pharmaceuticals when in 2001 the company got caught up in the Enron accounting scandal and Greg and Randy were off to greener pastures.  
Greg ended up taking on the role of head of sales for Genesis Pharma, soon to be Pierre Fabre.  Randy went on to fulfill several leadership roles in both sales and marketing for SkinMedica while being one of the first employees.  For the next several years, Greg and Randy would see each other often at different skincare trade shows and meetings.  The two would often find themselves having a beer together discussing what it would be like to start their own business.
Eventually, Greg found himself running the sales team for a company called AGI Dermatics.  This is where Greg found himself working under the tutelage of Dr. Dan Yarosh, founder of the dna repair enzymes.  AGI launched a skincare line called Remergent, which was focused entirely on dna repair enzyme technology.
Meanwhile, Randy was off in India running a small dermatology company called Percos India.  During his time at Percos, the company launched the first ever aesthetic skincare sales force in the country.  It was also at this time, that Randy helped Greg introduce the dna repair technology into the Asian marketplace.
Then came the year 2008.  AGI sold to Este Lauder.  This opened the door for Greg and Randy to follow their lifelong dream and start their own company.  As Este Lauder focused their efforts on the Prestige marketplace, Greg and Randy were able to relaunch the dna repair enzymes into the professional dermatology market under the name Celfix Cosmeceuticals.
This began several lean years for the pair.  They quickly learned that starting your own business was not only very expensive but also extremely challenging.  Little did they know that there were people around every corner looking to take advantage of the two young entrepreneurs.  There were many days and nights where one was talking the other off the ledge.  After multiple challenges finding a good manufacturing partner, the pair settled with a company out of Dallas, TX.  And although they don't work directly with that particular company anymore, they do work directly with an offshoot manufacturer made up of people from the original group.
After about 4 years of selling Celfix, Greg and Randy eventually sold the company to Precision Dermatology.  The duo went on to run the aesthetic division, Precision MD, for the next few years until that company sold to Valeant Pharmaceuticals in 2014.  Over the next couple years, Greg went on to be VP of Sales for both Topix Pharmaceuticals and Sente Labs.  Randy went on to be President of Sente and CEO of MDRejuvena.
In 2016, between stops at Sente and MDRejuvena, Randy and his silent partner Greg, started Photozyme LLC.  Greg was still under contract with Sente while Randy got the paperwork in order and launched Photozyme.  Soon thereafter, Greg took over full time at Photozyme while Randy spent his days running MDRejuvena.  In October 2019, Randy and Greg decided it was time for both to be involved in the business full time so Randy left MDRejuvena to be 100% all in with Greg at Photozyme.
Since that time, the guys ran into a little thing called Covid.  As it turns out, it has been a blessing in disguise as it forced the two to begin selling direct to consumers.  Yes up until this time, Photozyme was sold only to physicians, primarily Dermatologists and Plastic Surgeons.  The last couple years has seen the business evolve dramatically.  Who knew these two would get involved with social media "influencers" and the like.  The brand is also now sold in over 10 countries around the world with more countries coming on board as we write this.
Their vision for the company is to continue to manufacture quality products and to educate both physicians and consumers of the extreme importance of dna repair for the skin.  Photozyme is scientifically developed and dermatologist approved  and is necessary for any person who wants healthy skin.  Greg and Randy's passion is to provide products with the best science to effectively treat the number one cause of aging skin: sun damage.  Photozyme products can literally help every person on earth!
Today if you call the 800 number at Photozyme, there is a good chance you will be speaking to one of the founders.  Along with making great products, both Randy and Greg take immense pride in providing great customer service and believe that the best way to have a pulse of what is going on with your business is to speak to your customers directly.  The two remain close buddies to this day and although residing on opposite coasts they try to get together as often as possible to snowboard, fish, golf or just to take in a cold beer at one of their favorite pubs.